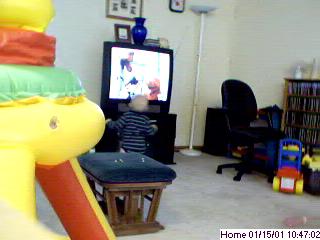 It's a little hard to tell, but that's Elmo of Sesame Street on the TV. Ethan has a Rock 'n Roll Elmo which he plays with every morning before his first bottle. He can't quite say "Elmo" yet, but he tries. It comes out more like "ehyo".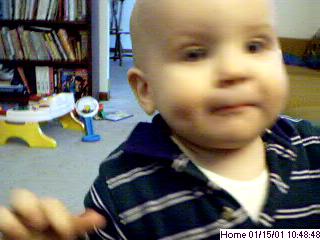 The blur isn't Tricia's fault - notice the furniture is standing still. It's hard to get a clear picture of a moving target.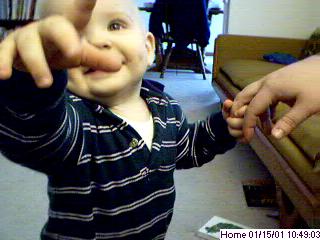 I'm not sure, but I think Trish had one of the webcam windows open, and he had just noticed it.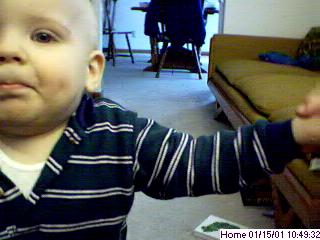 Blblblblblblblblblb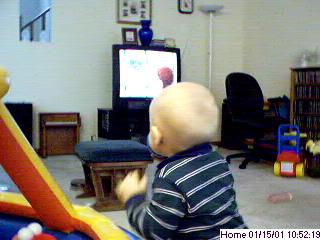 The red and yellow thing is an inflatable ball pit from his Uncle Christopher. You can see Elmo's eyes at the bottom, and -- look! -- there he is on TV, too!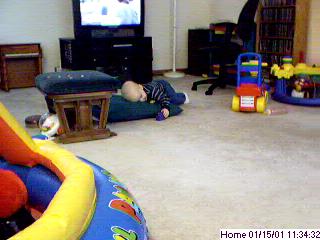 Too much excitement!

(But it doesn't last long)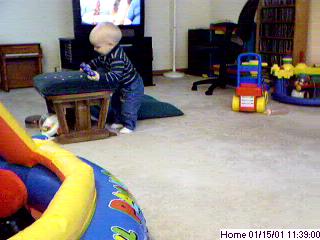 Earlier, Ethan had pulled the box of "O's" (Cheerios) off the computer desk, spilling them all over. Trish rescued some of them. He likes O's a lot, and he asks for them by name.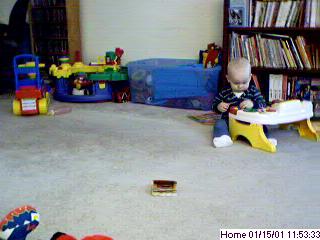 Ethan's Vtech console. He used to only play with it by standing next to it, leaning on it. Today, he sat down and pulled it close to him...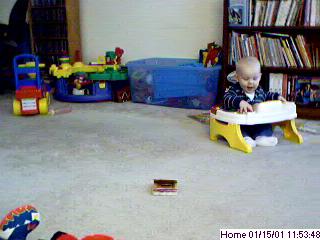 ...and then pulled it right over his legs. I don't know if he's singing or just babbling. Probably babbling, he jabbers a lot.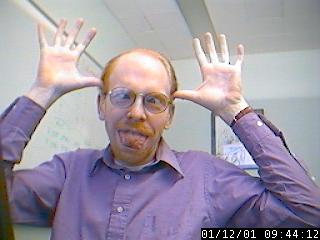 Hey, how did this get in here!