We didn't have a whole lot of presents for him to unwrap, but he's already received some of his gifts. His parents are real pushovers who kept giving him stuff early because they wanted to see him play with them.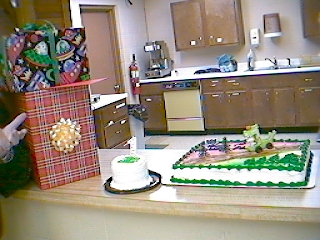 Here's the spread. We didn't tell anyone but a couple of the sponsors that we were doing this, so we really didn't expect to get any gifts. Jen surprised us.
By the way, I've got $1 for the first person who was there that night who can tell me whose hand that is. (Except that person).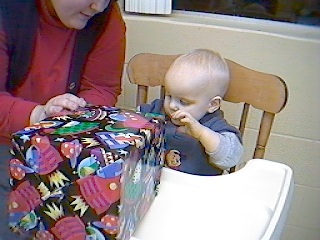 Ethan didn't know what to do at first. I guess we've done too good a job teaching him not to tear stuff.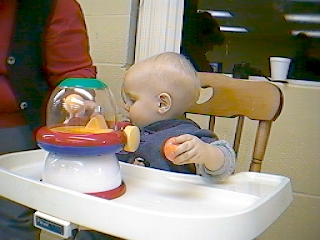 This present was from me. It's something like a gumball machine with a handle to eject the balls one at a time with a "ding!". Several people tried to call it a slot machine.
He figured it out right away. So did some of the high-schoolers, who went off and raced to see if one person could eject them faster than two others could put them back.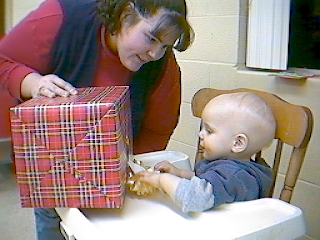 After a while, Ethan started to get the hang of the wrapping paper. We figure he'll be up to speed just in time for Christmas.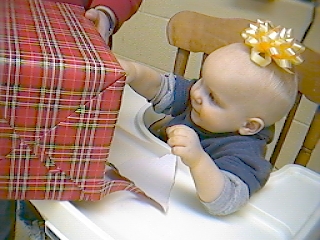 He went straight for the bow, of course. We just had to put it where he could find it later.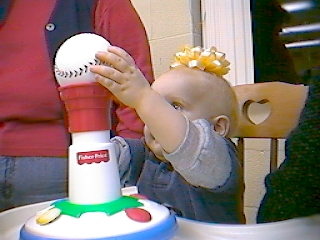 This present was from Jen and her family, who also gave him his first birthday card. It's a tee-ball, of course. The ball even has a notch so it can stick on the tee better. The bat is in the next picture.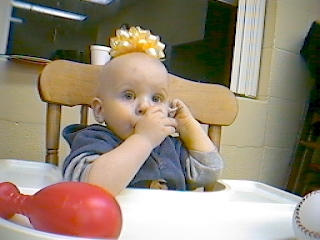 Whew! All this excitement is wearing me out.
(Yes, he always pulls on his ear like that when he's tired.)