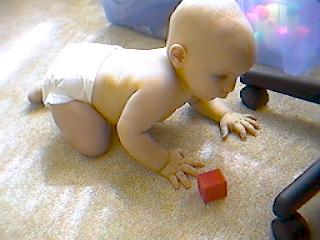 As Tricia's mom would say, infants are great because you can put them down and come back in an hour and find them right where you left 'em. Not so with Ethan anymore. If he's awake, he's moving. Has a real knack for locating the most dangerous thing he can reach, and heading straight for it.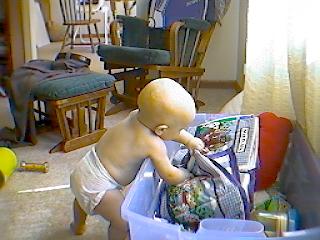 Here he's managed to lift himself up to look inside his toy box. It's translucent, so he saw some of his toys inside. He grabbed the edge with both hands and wiggled his way up to a standing position, then reached down inside for the toy he wanted. Of course, I had to keep the box from tipping over on him. If you look closely at the bottom left corner of the first one, you can see a blur as I quickly pull my hand out of camera range. Looks like a dark spot on the rug.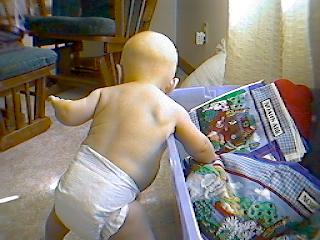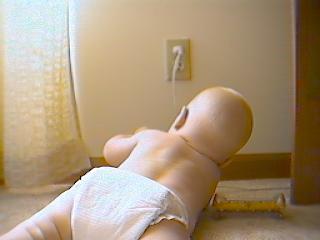 Here's Ethan finding something dangerous - the power cord to our lamp. If you could hear what happened when I took the picture it went something like this:

Click!
Swat!
Waaaaah!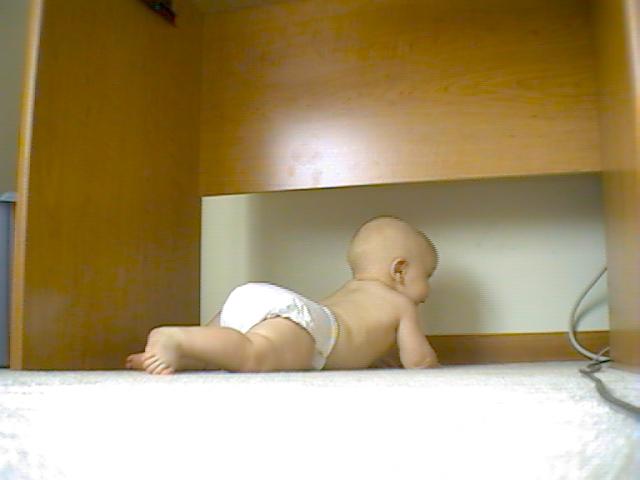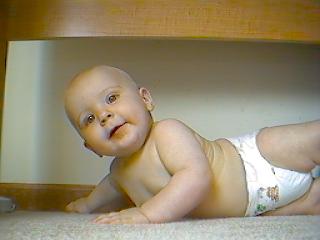 Ethan is terribly fascinated by cords and dark corners. Here he's crawled under the desk in search of danger and mystery. When I called his name, he turned around and headed for the flashing green light on the camera.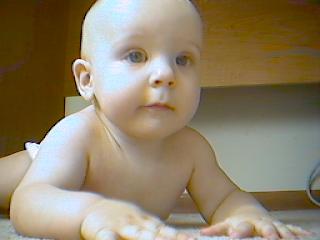 As his parents, we feel we have a moral obligation to collect embarrassing pictures we can show his first girlfriend. Here's one now. This is how Ethan learned to roll over, making a peak and then tipping in the direction he wants to go. Doesn't need this anymore... he just rolls when he wants to.