Let's just hope there is no number two. (Updated)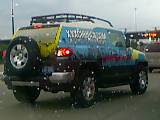 This looks like it must be real--who would paint all that if it wasn't? I bet his parents are so proud.
Update: I made at least three mistakes with this post.
I wrote the original post while driving.
My camera phone was set to a resolution of 160x120 instead of the usual 1280x1024.
XXXChurch.com (subtitled "#1 Christian Porn Site") is actually a reputable site. Their mission is helping people resist pornography.
It's kind of strange to look around their site. You don't often see the words "Bible" and "porn industry" together. One page has a video entitled "Jesus loves porn stars" along with this blurb:
Jesus commanded us to go, He did not say to discriminate people or place, He said go.

XXXchurch began its ministry in January of 2002 at the AVN porn show in Las Vegas. X3church porn show outreaches are designed to touch the lives of those who surround the porn industry and those who call porn a career. We are bold in our approach; believing the best place for XXXchurch is inside the walls of the many porn conventions throughout the year. XXXchurch rents booth space inside the shows and mans these booths with a team of men and women with the common goal of sharing hope with everyone in attendance. Every show has it's own unique outreach. From our Bible giveaways to our professional women stylists who minister directly to the ladies of the porn industry, we try to meet the physical and spiritual needs at every show.
My apologies to the folks from X3. They're reaching out to a group of people others might write off as lost.