Grand Canyon viewing deck
On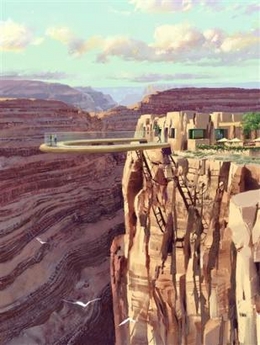 a decidedly lighter note than my last two entries, I came upon a story about a glass-bottomed walkway an Indian-owned resort company is building over the Grand Canyon.
A horseshoe shaped skywalk will jut out 70 feet horizontally from the lip of the canyon, giving paying customers a view 4000 feet straight down to the canyon floor, as well as a from-the-inside view of the walls. The installation will be at the Hualapai Tribe's reservation, about 200 miles drive west of Grand Canyon National Park.
During our recent visit to Grand Canyon, our guide (Marvelous Marv, see our picture of him) noted that the master plan for the park calls for cutting back public access. They will seek to block all private vehicles, instead bussing visitors through the park with selected stops for photos. He pointed out the large number of foreign visitors, who pay $250 for a 5 hour bus ride from Las Vegas to spend less than an hour taking pictures. A glass-bottomed walkway like this seems like just the kind of thing to attract busloads of tourists, who are more interested in "having been there" than in the park itself.
The walkway, with a glass bottom and sides, will be supported by steel beams and will accommodate 120 people, though it is designed to hold 72 million pounds, said Sheri Yellowhawk, chief executive officer of the Grand Canyon Resort Corp., the tribal-owned company that is overseeing the project.
The project is still seeking an insurer.
Labels: Grand Canyon