About the big move!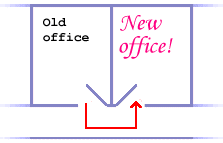 That's right, you won't find me in that old office anymore. No, no, no! As you can see, this move will have a dramatic impact on my visibility and accessibility. To assist you in finding me at my new location, I've provided this handy map.
Top 10 reasons for the move
Convenient access to shopping, schools and public transportation.
Want to develop the same crick on the other side of my neck from watching people walk by my door.
Confuse industrial spies.
Lower rent, responsible landlord.
Hoping for "we'll pay to switch you back" offer from AT&T.
Get farther away from that other guy with the annoying modem noise.
"Forgot" the files for clients I don't like.
Gym was closed, needed my workout.
Bigger window to throw myself out, if it comes to that.
Previous occupant became a partner, hoping for aftereffects.