In memory of Elvin Santiago Romero
I am honored to be able to remember Elvin Santiago Romero, who was one of the first victims of 9/11/2001.
Elvin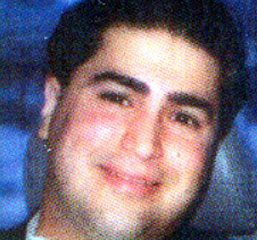 was a vice president of international equities at the trading and securities firm of Cantor and Fitzgerald, which occupied floors 101-105 of "Tower 1", the north tower of the World Trade Center. The first airplane entered floors 95-103 at 8:46 am that day. Cantor and Fitzgerald lost about 700 people that day.
At that moment, Elvin was not talking about his work, or driving the Corvette he'd worked all his life for, or preparing for a meeting, but talking with his wife, Diane. Their daughter Gabriella, then 5, had recently begun Kindergarten. Brother Alexander was 2. That day, Gabriella had gone to school without crying. Elvin's last words before the call was cut off were "It looks like we're going to have a great day." Elvin was 34.
The

above can be read many places around the web. Much of it came originally from a memorial in the New York Times. There are also several websites where family, friends and coworkers have made their tributes. (Cantor Families, September 11 Victims, CNN, legacy.com)
What makes this especially meaningful to me, though, is the similarities to my own life. I can't think about how to give a proper tribute to Elvin without thinking about my own life.
Do I call my wife enough? Do my kids know I love them? If they do believe I love them, do my actions show them what "love" really means, or am I teaching them that love is something meaningless and shallow?
I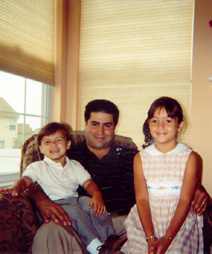 wonder what Alexander remembers of his dad. When the Times wrote their story, Alexander was too young to understand his Dad would never come back. After five years without him, what can Alexander remember of the two years with his dad? Is it what Elvin would have wanted him to remember? Gabriella is now 10. Soon after her Dad's death, she wanted to learn everything she could about him. Does he still hold such an important place in her heart? Are her memories of him starting to fade?
What would I want my kids to remember? Even if I'm not killed by terrorists, will they remember that I loved them, that I was their biggest fan, that I wanted the best for them, or that I spent too much time at work, or playing with computers?
Elvin's life ended five years ago in a senseless display of violence, aimed not at him personally but at our way of life. While we cannot bring Elvin back, cannot undo what they have done to him, we can strike back at his attackers. We must make sure our way of life continues, by standing up for our country and protecting ourselves and our children and what we hold dear.
Otherwise, we really have lost. And have lost far more than 2996 individual lives.